Current Issue
Vol. 2 No. 1 (2023): Indones. J. Chem. Stud., June 2023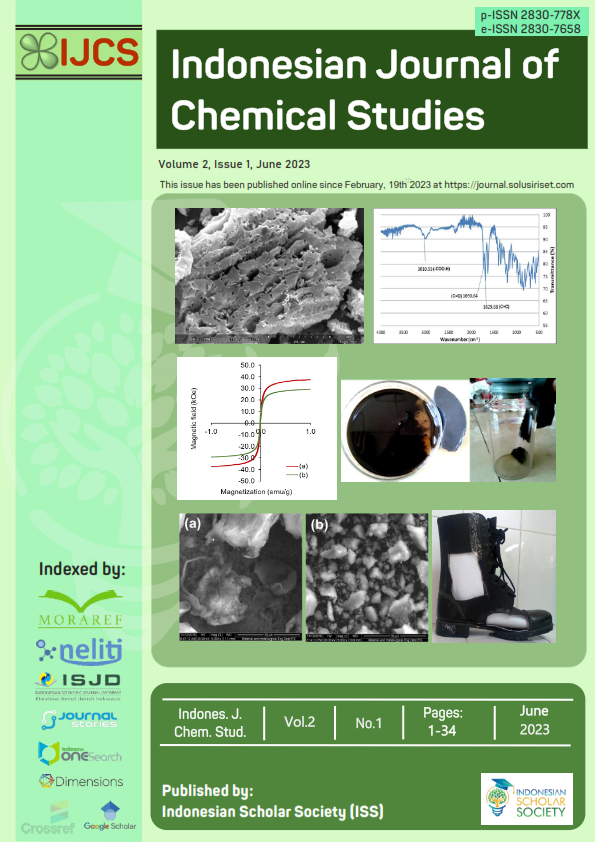 This issue (IJCS Volume 2 Issue 1 the Year 2023) has been launched on 19th February 2023 and is available online for the regular issue of 30th June 2023.  All articles in this issue (5 original research articles) include 20 Authors from 3 countries of origin (Indonesia, Pakistan, and Malaysia).
Full Issue
View All Issues
Indonesian Journal of Chemical Studies (IJCS; Indones. J. Chem. Stud.; e-ISSN: 2830-7658, p-ISSN: 2830-778X) is a peer-reviewed and open-access journal that publishes original research articles, review articles (only selected/invited authors), as well as short communication in all areas of basic and applied chemistry. IJCS was managed & published by the Indonesian Scholar Society in collaboration with the Himpunan Kimia Indonesia. This journal is published 2 times a year, every June and December.
Our mission is to share knowledge in chemical studies with the global scientific community. IJCS covers the following topics, but is not limited to Organic and Inorganic Chemistry; Physical and Theoretical Chemistry; Analytical and Electroanalytical Chemistry; Materials and Polymer Chemistry; Supramolecular Chemistry; Organometallic Chemistry; Coordination Chemistry; Biomolecular Chemistry; Natural Products and Medicinal Chemistry; Electrochemistry; Environmental Chemistry; Propellant Chemistry; and Chemistry for Defense.
 Recommended Tools :






IJCS is licensed under a Creative Commons Attribution-ShareAlike 4.0 International (CC BY-SA 4.0) license, copyright for articles published in this journal is retained by the IJCS.