About the Journal
| | |
| --- | --- |
| Journal title | : Indonesian Journal of Chemical Studies |
| Initials | : IJCS |
| Abbreviation | : Indones. J. Chem. Stud. |
| Frequency | : 2 issues per year (June and December) |
| Prefix DOI | : 10.55749/ijcs   |
| e-ISSN / p-ISSN | : 2830-7658 / 2830-778X |
| Editor In Chief | : Dr. Rahmat Basuki, M.Sc. |
| Publisher | : Indonesian Scholar Society |
Current Issue
Vol. 1 No. 2 (2022): Indones. J. Chem. Stud., December 2022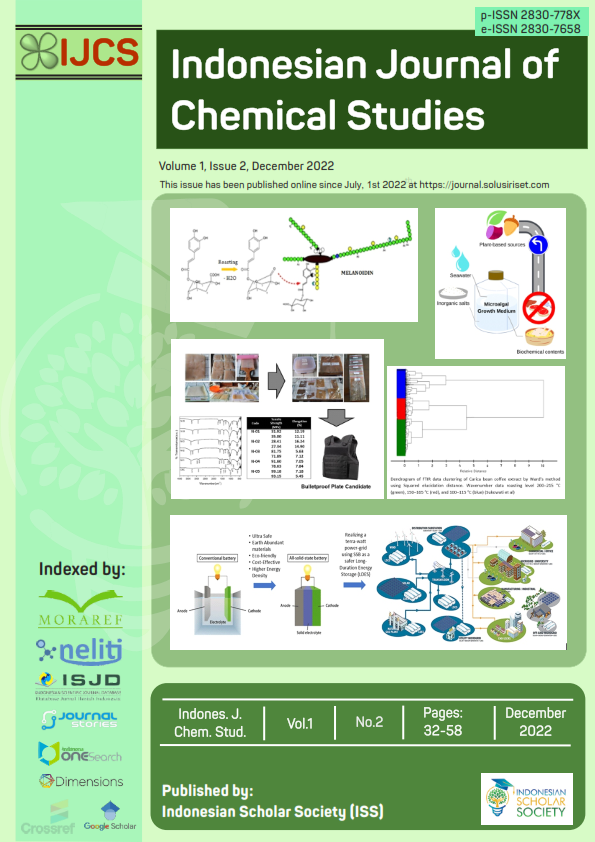 This issue (IJCS Volume 1 Issue 2 the Year 2022) has been published online since 1st July 2022 and is available online for the regular issue of 31st December 2022.
Full Issue
Research Articles
Abstract

Views :

122 |
Short Communication
Abstract

Views :

71 |
View All Issues
Indonesian Journal of Chemical Studies (Indones. J. Chem. Stud.; e-ISSN: 2830-7658, p-ISSN: 2830-778X) is a peer-reviewed, open-access journal that publishes original research articles, review articles (only selected/invited authors), as well as short communication in all areas of basic and applied chemistry. IJCS was managed & published by the Indonesian Scholar Society. This journal is published 2 times a year, every June and December. IJCS covers the following topics, but is not limited to:
- Organic and Inorganic Chemistry;
- Physical and Theoretical Chemistry;
- Analytical and Electroanalytical Chemistry;
- Materials and Polymer Chemistry;
- Supramolecular Chemistry;
- Organometallic Chemistry;
- Coordination Chemistry;
- Biomolecular Chemistry;
- Natural Products and Medicinal Chemistry;
- Electrochemistry;
- Environmental Chemistry;
- Propellant Chemistry; and
- Chemistry for Defense.
 Recommended Tools :






Indonesian Journal of Chemical Studies is licensed under a Creative Commons Attribution-ShareAlike 4.0 International (CC BY-SA 4.0) License